Posted on May 25th, 2012 in Isaac Held's Blog
Animations of the near surface temperature (top) and upper tropospheric zonal winds (bottom) in an idealized dry atmospheric model.  The first 500 days of spinup from a state of rest are shown at one frame per day for the entire globe.

As a change of pace from discussions of climate sensitivity, I'll describe an idealized atmospheric model that I think of as an important element in a model hierarchy essential to our thinking about atmospheric circulation and climate.
Many of my colleagues are probably tired of hearing me talk about the importance for climate theory of studying a hierarchy of climate models and especially tired of hearing me make the analogy with the hierarchy of model organisms (E. Coli, yeast, fruit fly, zebra fish, mouse, etc)  that biologists utilize so effectively. As I have written in a little essay on this subject,  biologists have the advantage — their hierarchy is provided by nature, and the conservative character of much of evolution provides confidence that a lot of what we learn from simpler life forms carries over to more complex organisms.  Climate theory requires such a hierarchy as well — how else do you go about trying to understand a complex system that you cannot easily perform controlled experiment on? — but we need to construct it ourselves, and agree among ourselves on which idealized systems to study intensively.  For a discussion of the atmospheric circulation from the perspective of the insights gained from working with a hierarchy of atmospheric models, see the excellent review by Schneider 2006.
The model I'll describe here is of a dry atmosphere, an ideal gas on a spherical rotating planet forced only by radiative fluxes — modeled as a simple relaxation of temperature to a "radiative equilibrium" that is a function of latitude and pressure — and a frictional force that relaxes the flow near the surface to zero (in the reference frame rotating with the surface).  The model equations are described in Held and Suarez.  You can get a feeling for how this and similar setups have been utilized, both for testing numerical methods and for exploring climate dynamics, by googling held suarez idealized gcm.
The model is designed to capture some of the complexity of midlatude jets and storms tracks on a rotating sphere.  The climate that emerges (the statistics of the winds and temperatures) has a lot of features that are quite Earth-like.  The animations at the top show the near surface temperature and the upper tropospheric zonal (east-west) component of the winds spinning up from a state of rest, using a vanilla spectral model with modest resolution — 20 vertical levels and T42 horizontal resolution — meaning that all fields are expressed as sums over the spherical harmonics
  with total wavenumber
. Here's a plot of the time-averaged  zonally-averaged zonal winds (zonal => east-west) produced by this model (actually an average over the 2,000 days following the 500 day spinup shown in the animations). The contour interval is 5m/s.  The zero contour meets the surface near 30 and 60 degrees latitude.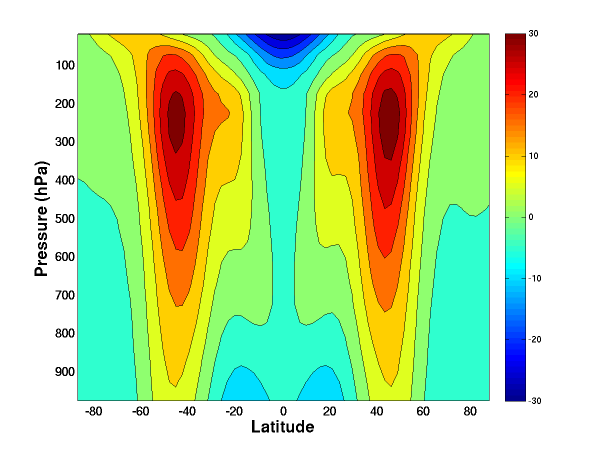 I have starting calling this the fruit fly of climate models.  I am not expecting this terminology to catch on, but fruit fly seems about right to me — the model is complex enough to be turbulent and chaotic, with a lot of space and times scales involved, and I think it repays close study, but it is missing many sources of complexity present in the Earth's atmosphere, and in more comprehensive models.  In particular, there are no clouds or even water vapor .
Here's how the time and zonally averaged winds near the surface change as you increase or decrease the rotation rate by modest amounts from it's Earth-like value: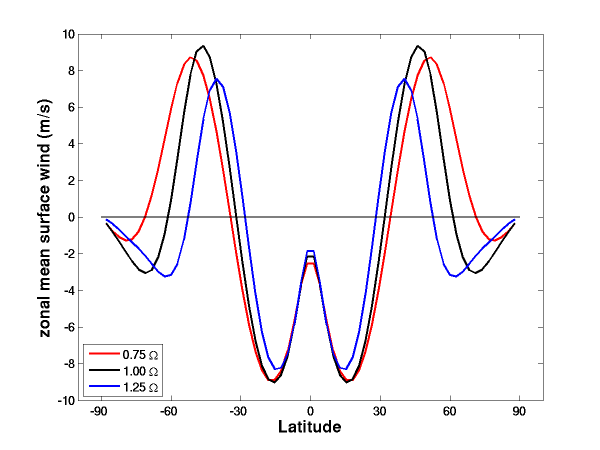 The circulation pattern shifts polewards as the rotation rate decreases.  The location of the midlatitude westerlies marks the location of the storm tracks, and the transition from easterlies to westerlies in the subtropics marks the region of mean subsidence that generates the subtropical arid zones — in models with water vapor and precipitation. So understanding shifts like these can be important for a lot of reasons. We can think of this problem as a test of our ability to reason about this kind of thing, before tackling the question of circulation shifts in response to global warming.
Gang Chen, Walter Robinson and I looked at how this pattern shifts as the strength of the surface drag is increased or decreased with this same setup in a 2007 paper.  The circulation moves polewards as the drag per unit surface wind is reduced — ie, as one makes the surface smoother.  We offer an explanation in the paper, but I don't think we understand it as well as the rotation dependence.  The same dependence survives in more comprehensive GCMs — a rougher (sorry – smoother 5/30/12) land surface moves the westerlies and the storm track polewards and decreases polar surface pressures — and is a significant issue when trying to understand model biases and inter-model differences.
If you vary the rotation rate over a larger range in this model, more dramatic things happen.  For high rotation rates, the circulation takes on a Jovian appearance with multiple jets in each hemisphere; at very low rotation rates, it looks more Venusian, with a Hadley cell extending from equator to pole and with the upper tropospheric flow resembling solid body rotation at an angular velocity larger than that of the surface (a "superrotating" state).  Does this model ever generate bifurcations — abrupt changes in climate at particular values of a parameter?  See, in this regard, the new paper by Wang, Gerber, and Polvani.  (They modify the model described here in a couple of ways, by changing the radiative equilibrium temperatures and by adding some idealized topography, both designed to create a more plausible stratospheric circulation.) They present evidence for an abrupt change as they warm the upper troposphere of the model.
One way that this model helps me is when I am exposed to a new idea for, say, the time-averaged state of the atmosphere — perhaps for the equator-pole temperature gradient, or the globally averaged kinetic energy generation and dissipation.  (For example, there are suggestions that simple variational principles explain these things.)  The first thing I do is ask if there is anything in the formulation of the theory that precludes it from being applied to this relatively simple atmosphere-like model.  (The fruit fly can't be used to study immunological responses only found in vertebrates, say.)  If not, we can go ahead and test the theory.  In my experience, it is often better to be less ambitious and develop and test theories for these turbulent chaotic flows directly, and only after proving them to be useful in idealized contexts make a case for their relevance to the real world.
[The views expressed on this blog are in no sense official positions of the Geophysical Fluid Dynamics Laboratory, the National Oceanic and Atmospheric Administration, or the Department of Commerce.]