Hollings Scholar Pursues Hurricane Research Goals at GFDL
Arielle Alpert's fascination with hurricanes has guided her study of them on minor and massive scalesfor as long as she can remember. But when it came time for the Hollings scholar to pick a lab to deepen her research, she opted for a less obvious choice.
"It was more about staying close to home and just doing what I want to do with the people I want to do it with," said Alpert, an Earth and Planetary Sciences major at John Hopkins University. "I was looking at internships, and the only one that offered anything about hurricanes was in Florida. But I contacted GFDL as well because I knew people here, and had already talked to them (about my interests) the summer before."
Alpert, who spends her summer learning about aerosols and evaluating the various ways they interact with climate and GFDL's new CM3 model, has been a Hollings scholar since her sophomore year at Hopkins.
The Hollings Scholarship Program provides successful undergraduate applicants with awards, including academic financial assistance for two years. The program's chief feature includes a 10-week, full-time, paid internship during the summer after junior year at NOAA facilities like GFDL.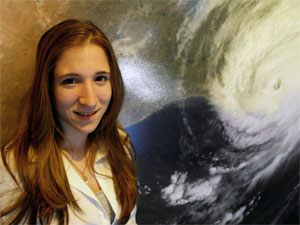 Alpert, 21, first learned of the scholarship in summer 2009, following her freshman year in college–her first time interning with GFDL and setting foot on NOAA territory.
"You don't even really expect to get a job at that point," Alpert said. "I had no background in anything, and I had only taken entry-level courses."
But Alpert emailed her high school mentor and GFDL scientist Dick Wetherald about her interest anyway, and he directed her to GFDL research meteorologist Tim Marchok. Marchok introduced Alpert to the lab's communications director Maria Setzer, who was looking to work with an intern.
Alpert credits Setzer with getting her acclimated to the lab.
"Maria always wanted me to get to know the scientists because she knew that I wanted to be a research scientist later on, not a communications major," said Alpert.
Alpert said Setzer hired her as an intern and helped her complete a project about hurricanes. The project gave Alpert a chance to meet and interview GFDL's various scientists and to become more familiar with the lab–background she found very helpful.
"It was a great introduction to the lab instead of going straight into research," Alpert said. "Because at that point, I didn't really have any research experience and would not have known what to do."
Summer 2009 also marked a unique period for GFDL-NOAA conducted its periodic review of the lab then. GFDL scientists had to give a series of presentations, explaining their research.
"I went to all of those presentations and knew what everyone was doing for research," said Alpert. "And that's how I knew for this summer, – Ok, Gabe Vecchi is doing tropical cyclones and Rong Zhang is doing variability,-  So, I knew who to go to and what I wanted to do, and it was definitely helpful in terms of getting to know the lab."
This summer, Alpert is interning with Vecchi, an oceanographer and Zhang, a climate variability expert, on a Saharan Dust and Atlantic Hurricanes project. Under their leadership, she uses the lab's CM3 model to evaluate the relationship between dust and climate over the North Atlantic and Sahel region. Alpert also studies with lab researcher Paul Ginoux, who is teaching her even more about the CM3 climate model and aerosols.
Alpert said working with Vecchi and Zhang, particularly, has proven fruitful.
"They don't underestimate me or overestimate me," she said. "They just push me a little bit, which is really nice. I feel like everyone here wants you to reach the point where they are. They want you to love what you do and succeed at it, so they're just trying to help you on that path."
Zhang praised Alpert's strengths.
"She is very quick in getting familiar with the new research topic, making progress in the work, and summarizing the results in a short period," Zhang said.
And Alpert's disposition, said Zhang, makes her an even worthier summer addition to the lab.
"Arielle has a very nice personality and is easy to work," said Zhang. "I believe she can work on the summer project successfully."
"They want you to love what you do and succeed at it, so
they're just trying to help you on that path."
Vecchi continued the accolades.
"She shows a lot of creativity and works really hard," he said. "What's interesting is she's bringing together efforts that up until this point have been separate, and she's putting them together in interesting and novel ways. And I think the project she's working on has legs."
The two scientists are also helping Alpert fine-tune her computing skills.
"Computing has always been challenging for me. This is definitely a very model-heavy place, which a lot of people realize before they come here, and it might scare them off," she said. "But they're very helpful about getting you to learn the system."
A native of Livingston, NJ, Alpert grew up one hour north of Princeton. Her earliest scientific memories include watching Discovery and History Channel shows about natural disasters and traveling cross-country with her family, where she saw first-hand what the damage can do.
"I would go to Mount St. Helen's and Galveston and see what disasters did to communities," said Alpert. "It was really inspiring and also just really interesting to see how they worked and functioned."
Alpert said these experiences coupled with her participation in a high school science club fueled her desire to pursue a career in science.
"It was in the back of my mind until high school," she said. "I joined this science research program and then it really came out as something I wanted to do."
The daughter of a lawyer and office manager, Alpert is the younger of two children. Her older brother Steve is an engineer, and she said his focus at an early age inspired her to achieve.
"He left this legacy in high school before me with how well he did in classes, so it was something to live up to," Alpert said. "I think the idea of him pushed me, even though he wasn't there."
The self-described science-fiction fantasy lover said she marries academic interests with volunteerism by teaching science experiments to elementary children at an after school program in Baltimore. She, along with other volunteers, gets the children interested in science by leading them in fun experiments, like dropping pennies in certain solutions to turn them copper, silver or gold.
After Alpert completes her Earth and Planetary Sciences degree at Hopkins, she heads to graduate school, potentially at Princeton University -the place that has become her summer home.
She lives in a quad-style dormitory with three other summer interns from early June to early August. The roommates share a kitchenette, bathroom and dining room at a co-ed dormitory located on Princeton University's campus, which hosts a diverse group of students interning for GFDL, Princeton Plasma Physics Laboratory and other science laboratories during the summer months.
Being a Hollings scholar, Alpert said she could choose anywhere around the country to conduct her research, but she returns to GFDL because she sees it as, "a step above everywhere else."
Though GFDL's scientists are among the most respected in their field, Alpert said, they never brag about their gifts. If anything, she said, they are a group of people who genuinely love what they do and who are able to collaborate without competing. Even GFDL's lunch room banter is unique, with conversations revolving around the latest storm and other science-related news items.
"The lab itself is great," said the budding scientist. "The people here are the most wonderful people I've ever met, honestly. I talked to someone during lunch last summer and they said, – Yeah, I transferred here because I heard this place has the nicest people."
"It really does," she said. "And they remember my name from summer to summer."