October 5, 2021 – Today, Syukuro "Suki" Manabe, 90, was named among the winners of the 2021 Nobel Prize in Physics for his groundbreaking climate science achievements. His pioneering research in the 1960s laid the foundation for how scientists perceive the Earth's climate and how human actions continue to influence it. Starting in the 1960s, Manabe, a senior meteorologist in Atmospheric and Oceanic Sciences (AOS) based at Princeton University, developed the first three-dimensional models of the atmosphere while working at NOAA's Geophysical Fluid Dynamics Laboratory (GFDL) along with founding director Joseph Smagorinsky.
Award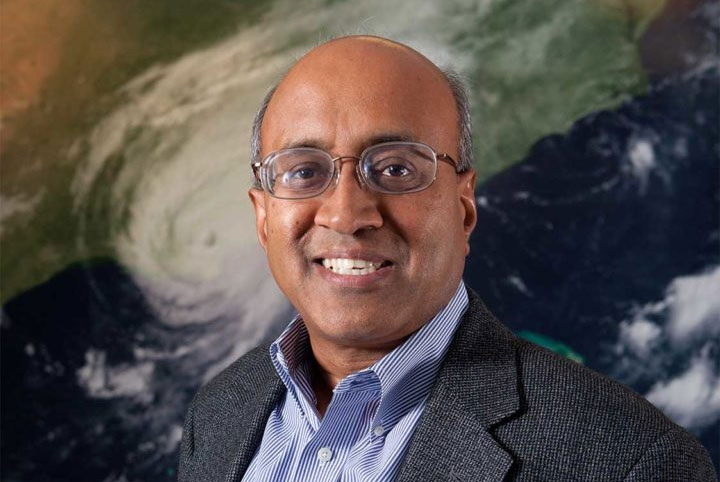 October 14, 2021 – Honoring his contributions to the advancement of physics, the American Physical Society (APS) elected NOAA Climate Scientist V. "Ram" Ramaswamy among its 2021 Fellows. The APS Fellowship Program recognizes members who have made exceptional contributions in physics research, important applications of physics, leadership in or service to physics, or physics education. As Director of the Geophysical Fluid Dynamics Laboratory in Princeton since 2008, Ramaswamy has helped guide climate science and atmospheric modeling research progress.
Award

September 13, 2021 – As a Research Oceanographer, Alistair Adcroft knows the importance of teamwork when it comes to advancing global climate science. For this dedication, the American Geophysical Union (AGU) just honored him among its 2021 Honors Award, which recognizes scientists nationwide for their outstanding career work within their fields. Adcroft specifically earned the AGU Ocean Sciences Award for his research at Princeton University and the National Oceanic and Atmospheric Administration's Geophysical Fluid Dynamics Lab.
Award
September 10, 2021 – There is a meme usually making the rounds on the Internet, entitled: Midwestern dads during a tornado warning. It typically involves a man standing in his backyard or mowing the lawn, while casually staring a giant funnel cloud coming his way. "I can definitely relate to that," Tom Delworth said. As a boy growing up in the Midwest, he developed a fascination for extreme weather, which ultimately led him to pursue a groundbreaking career in atmospheric and oceanic sciences. Honoring this lifelong work, the American Geophysical Union (AGU) presented Delworth with the prestigious Bert Bolin Award and Lecture to take place at its Fall 2021 meeting.