Arctic Sea Ice Predictions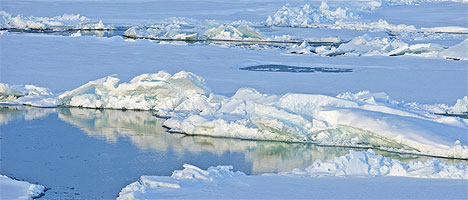 Contacts, for more information:
Continuous observations of Arctic sea-ice cover have become possible since 1979 with the use of passive microwave satellite instruments. The minimum of Pan-Arctic sea-ice extent occurs each year in September. Since the beginning of the record, September sea-ice extent has decreased by about 40%. Large year-to-year fluctuations occur on top of the long-term decline, such as the 1996 maximum, and the 2007 and 2012 minima. Predicting these fluctuations is critically important to improve management of ocean and coastal resources in the Arctic.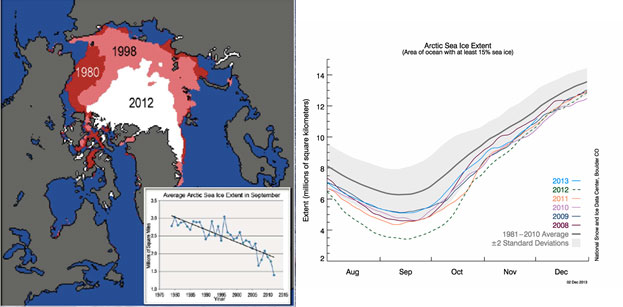 GFDL Research
While the long-term sea-ice decline can be well reproduced with climate models forced by radiative forcing, the models need to be initialized from the observed state in order to capture part of the year-to-year changes. GFDL has developed an operational-like prediction system that is run every month and produces seasonal predictions, including sea-ice extent. GFDL seasonal predictions are initialized every month from the Ensemble Kalman Filter Data Assimilation system built on the CM2.1 model (Zhang et al. 2007), which provides realistic initial conditions to the predictions.
GFDL's CM2.1 prediction system shows high retrospective skill in predicting Arctic sea-ice extent in summer (Msadek et al. 2014). Additional forecasts have been run using the Forecast-oriented Low Ocean Resolution (FLOR) model, which has the same ocean-sea ice model as CM2.1 but a finer atmospheric resolution. FLOR simulated a very realistic seasonal evolution of Arctic sea-ice extent, with remarkable agreement during the melting and growing seasons, partly the result of improved winds and higher albedo compared with CM2.1 (Msadek et al. 2014).
Since the mid-1990s, an interagency effort, the Study of Environmental Arctic Change (SEARCH), has combined available sea ice predictions — both empirical and dynamical — to provide an outlook of September sea-ice extent one to three months in advance. GFDL contributes to the SEARCH international effort. GFDL's 2013 contribution to the SEARCH outlook effort was based on the CM2.1 prediction system.
The median forecasts for the 2013 sea-ice extent value projected that September Arctic sea-ice extent would be as low as 4 million square kilometers. Observations showed a mean value of 5.35 million square kilometers, hence well above the median projections. GFDL forecasts initialized in June, July and August projected higher values than the SEARCH median and ultimately, GFDL's projection were verified to be among the three best forecasts, and among the two best for dynamical models. Yet 2013 is not an isolated year of success. Summer Arctic sea-ice extent is relatively well predicted retrospectively between 1982 and 2013 using both CM2.1 and FLOR, with particularly good agreement in the 1990s (Msadek et al. 2014).
Enhanced international partnerships have been developed to improve our understanding of seasonal skill of Arctic sea-ice changes. The Arctic Predictability and Prediction on Seasonal to Inter-annual Timescales (APPOSITE) project aims to quantify the predictability of the Arctic environment on seasonal to inter-annual timescales using coordinated climate model experiments. GFDL has been contributing to APPOSITE by running perfect predictability ensemble experiments using the CM3 model. The results of the inter-model comparison have been published in GRL (Tietsche et al. 2014). GFDL also contributes to the EU SPECS project, the goal of which is to compare the skill of seasonal Arctic sea-ice in several operational forecast systems. Such an inter-model comparison of retrospective predictions is particularly important for a better estimate of the uncertainty of future predictions.
Related Links
Publications
Tietsche, S., J. J. Day, V. Guemas, W. Hurlin, S. P. E. Keeley, D. Matei, R. Msadek, M. Collins, and E. Hawkins (2014), Seasonal to interannual Arctic sea ice predictability in current global climate models, Geophys. Res. Lett., 41, doi:10.1002/2013GL058755.
Msadek, R., G. Vecchi, M. Winton, R. Gudgel, 2014: Importance of initial conditions in seasonal forecasts of Arctic sea-ice extent, in preparation
Zhang, S., M. J. Harrison, A. Rosati, and A. T. Wittenberg, 2007: System design and evaluation of coupled ensemble data assimilation for global oceanic climate studies. Mon. Wea. Rev., 135 (10), doi:10.1175/MWR3466.1.