Ants Leetmaa Memorial Symposium:
Climate Variations, Change, and Predictability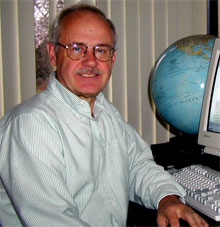 Wednesday, June 20, 2018
Venue: Princeton University Frick Lab (Main Campus)
Please join NOAA's Geophysical Fluid Dynamics Laboratory (GFDL) and Princeton University's Atmospheric and Oceanic Sciences program as we honor the life ​and career of a departed colleague, Dr. Ants Leetmaa, former director of GFDL. Dr. Leetmaa served as GFDL director (2001–2007), and director of NOAA's National Weather Service Climate Prediction Center (1997–2001). His contributions to climate variability and predictability research and forecast applications substantially advanced how we understand and predict natural climate variability, and the role of oceans in the climate system.
Agenda
 Time
Topic
Speaker(s)
8:15 am
Shuttle departs from Homewood Suites to Princeton University
8:30 am
Coffee/tea
9:00 – 9:10 am
Introduction and Logistics
Ram Ramaswamy, NOAA/OAR/GFDL
9:10 – 10:25 am
Dr. Leetmaa's Career
Chair: Ming Ji, NOAA/NWS/OSTI
David Halpern, NASA Jet Propulsion Laboratory
William Lapenta, NOAA/NWS/NCEP
Craig McLean, NOAA/OAR
Ram Ramaswamy, NOAA/OAR/GFDL
Mark Cane, Lamont-Doherty Earth Observatory, Columbia University
10:25 – 10:55 am
Break
10:55 – 12:25 pm
Remembering Dr. Leetmaa's Science
Chair: Wayne Higgins, NOAA/OAR/CPO
James Baker, NOAA Administrator (retired)
Mojib Latif, GEOMAR, University of Kiel
Jagadish Shukla, George Mason University
David DeWitt, NOAA/NWS/NCEP/CPC
George Philander, Princeton University
Anthony Rosati, NOAA/OAR/GFDL (retired)
12:25 – 1:45 pm
Lunch (on your own at Frist Campus Center)
1:45 – 3:00 pm
Dr. Leetmaa's Scientific Direction and Steering
Chair: Steve Zebiak, Columbia/IRI
Arun Kumar, NOAA/NWS/NCEP/CPC
Richard Reynolds, NOAA/NWS/NCEP/CPC (retired)
Gabriel Vecchi, Princeton University
Brian Soden, University of Miami
Marty Hoerling, NOAA/OAR/ESRL/PSD
3:00 – 3:30 pm
Break
3:30 – 4:45 pm
Dr. Leetmaa's Mentoring
Chair: Whit Anderson, NOAA/OAR/GFDL
Arlene Fiore, Lamont-Doherty Earth Observatory, Columbia University
Andrew Wittenberg, NOAA/OAR/GFDL
Yan Xue, NOAA/NWS/NCEP/CPC
Rong Zhang, NOAA/OAR/GFDL
John Dunne, NOAA/OAR/GFDL
4:45 – 5:15 pm
Wrap up
Moderator: Edwin Schneider, George Mason University
5:30 pm
Shuttle departs from Princeton University to Hyatt Regency
6:00 pm
Hors d'oeuvres/cash bar (Hyatt Regency, Princeton; directions here)
6:30 pm
Dinner (Hyatt Regency)
9:00 pm
Shuttle departs from Hyatt Regency to Homewood Suites
Optional Dinner
Hyatt Regency Princeton (at Carnegie Center). Cost is $40. Contact Anna Valerio at apval@princeton.edu by June 13 if you would like to attend the dinner.
Parking
Free parking is available in Lot 21 on the Princeton campus. It is approximately a 6-minute walk from Lot 21 to Frick Lab.