---
GFDL Statistical Downscaling Team's Projects & Linkages
Programs and organizations with whom the GFDL ESD Team interacts, as well as entities supporting some of our work
---
Projects & Linkages
---
---
---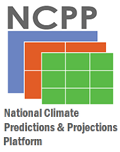 NCPP: National Climate Predictions & Projections Platform

The NCPP effort was a collaboration of climate scientists, modelers, downscalers, and practitioners (
i.e.
, those who use downscaled climate data for decision-support purposes). It aimed to develop an end-to-end system to connect basic climate data and climate knowledge with use in real-world applications. Toward this end, the
GFDL Perfect Model test framework
was adopted as one of the NCPP's protocols. Four members of GFDL's statistical downscaling team attended the
NCPP's August 2013 Quantitative Evaluation of Downscaling workshop
– a week-long event that raised the visibility of our GFDL-based efforts and provided us with valuable feedback and prospects for enhancing our research capabilities. The NCPP effort ended several years ago, though the important research themes that effort identified continue to be pursued.
An overview of the NCPP motivation, goals and plans, including our team's "Perfect Model" effort, were published as…
Barsugli, J. J., et al. (2013), The Practitioner's Dilemma: How to Assess the Credibility of Downscaled Climate Projections, Eos Trans.AGU, 94(46), 424. [LINK]
NOAA CPO MAPP Webinar on NCPP. (Nov 2013)