November 7th, 2023
Kristen Schepel, Science Policy and Project Manager at GFDL, is advancing cross-agency collaboration through an assignment at the United States Patent and Trademark Office (USPTO). As part of an employee exchange program, she has taken on the role of Climate Innovation Advisor at the USPTO, to connect the agency with the dynamic field of climate science and deepen their understanding of climate change and the pressing need for innovative solutions.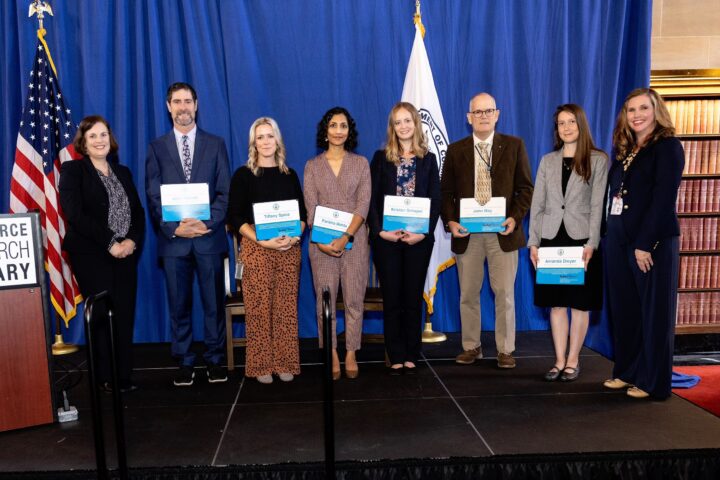 In this role, Kristen advises the USPTO on climate-related initiatives, including the Climate Change Mitigation Pilot Program for patents. She highlights the critical importance of protecting intellectual property as a catalyst for knowledge-sharing and subsequent innovation within the climate arena. Her influence transcends the boundaries of the USPTO, as she actively engages in national and international conferences and nurtures inter-agency collaborations aimed at propelling climate innovation forward.
Throughout her exchange at the USPTO, Kristen remains an active team member at GFDL, where she continues to draft scientific policy, facilitate the research and development transition process, and evaluate the impacts and accomplishments of scientific programs and projects at GFDL.
Additionally, the Department of Commerce recently recognized Kristen for her work by naming her a 2023 Sustainability, Energy, and Environmental Ambassador. This title is given to employees who advance the DOC's sustainability, energy and water efficiency, climate change adaptation, resilience, and environmental performance through the implementation of  groundbreaking projects and programs. Kristen's commitment to fostering innovation and addressing climate change challenges is evident through her extensive efforts at both the USPTO and NOAA, further solidified by her status as an Ambassador.
To learn more about Kristen's remarkable journey, please read the full article here.