Posted on September 3rd, 2014 in Isaac Held's Blog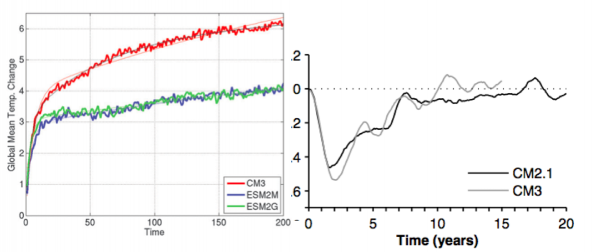 Left:  The response to instantaneous quadrupling of CO2 in three GFDL models, from Winton et al, 2013a. Right:  The ensemble mean response of global mean surface air temperature to Pinatubo in two GFDL climate models, from Merlis et al 2014.
This is a continuation of post #49 on constraining the transient climate response (TCR) using the cooling resulting from a volcanic eruption, specifically Pinatubo.  In order to make this connection, you need some kind of model that relates the volcanic response to the longer time scale response to an increase in CO2. Our global climate models provide the logical framework for studying this connection.  Using simple energy balance or linear response models to emulate the GCM behavior helps us understand what the models are saying.  The previous post focused on one particular model, GFDL's CM2.1.   The figure on the right (from Merlis et al 2014 once again)  compares the response to Pinatubo in CM2.1 with that in CM3, another of our models.  The CM2 curve is an average over an ensemble of 20 realizations with different initial conditions; the CM3 curve is an average over 10 realizations.  These two models have essentially the same ocean components but their atmospheric components differ in numerous ways.  Most importantly for the present discussion, the different treatments of sub-grid moist convection result in CM3 being a more sensitive model to CO2 increase, whether measured by the TCR or the equilibrium response.  One sees this difference in sensitivity in the left panel, showing the response to instantaneous quadrupling in three models, one of which is CM3.  One of the others, ESM2M, is very closely similar to CM2.1 (it also has the option of simulating an interactive carbon cycle, driven by emissions rather than specified concentrations of CO2, so is referred to as an Earth System Model.) ESM2G has the identical atmospheric component as ESM2M but a different ocean model.   As discussed in Winton et al 2013a, the different ocean models have little effect on this particular metric.  The analogous simulation with CM2.1 would be very close to the green and blue curves in the left panel.   Evidently the temperature responses to Pinatubo are not providing any clear indication that CM3 is the more sensitive model.
What is clear from the left panel is that the large difference between CM3 and the CM2-based models begins to build up between 10 and 50 years after the increase in CO2. The two models are close to each other during the initial (<10 year) fast response.  Presumably this is why the fast response to the volcanic forcing is similar in the two models.  (There is also a slower component to the volcanic response, but as discussed in #49 this is too small to see in the presence of the model's noisy temperatures but is clearly seen in ocean heat content or sea level — Stenchikov et al, 2009.)  Comparing the time integral of the temperature response over times less than 10 years or so with the integrated volcanic forcing provides a modest underestimate of the TCR in CM2.1, as discussed in #49; in CM3 this underestimate is much more substantial.
Winton et al 2013a provide a three time-scale fit to CM3's response to instantaneous quadrupling of CO2 (their Table 5).  Dividing by 2 to convert to doubling of CO2, the result is
with
= [1.5, 1.3, 1.8]K  and
= [3.3, 58, 1242] years, with
= 3.5 W/m2.  The response to a
-function spike in forcing is obtained by differentiating, 
,
For an arbitrary time evolution of the forcing
, you can then write the response as a sum over contributions from the forcing at each earlier time
,
where the forcing is assumed to vanish for
.  If you plug in a linearly increasing forcing reaching
at year 70, you get a transient response of about 2.0K.  You can get a feeling for how it might be difficult to infer TCR directly from the surface temperature response to a volcanic eruption by playing around with this expression.
The difference in the shapes of the response functions in CM2.1 and CM3 is important, putting aside the difference in sensitivity.  A much larger fraction of the response by year 100 is realized in the first 10 years in CM2.1 than in CM3.  These different shapes have implications for attribution and near term projection of the forced response. The plateau-ish character of CM2's response is likely related to the behavior of the model's Atlantic Meridional Overturning Circulation (AMOC).  AMOC weakens in response to increasing CO2 in almost all models but then typically recovers slowly as the system equilibrates.  Weaker AMOC results in colder North Atlantic and colder global mean (warming in the Southern Hemisphere is invariabily weaker than the cooling in the north).  Consistently, AMOC strengthens in the CM2.1 Pinatubo simulations (Stenchikov et al, 2009).  Winton et al 2013b examine a version of ESM2M  in which the ocean currents are fixed and compare the response to CO2 (1%/year) in this model with the standard model in which currents, including AMOC, are free to change.  The model with fixed currents warms more rapidly on these intermediate time scales.  In this picture the plateau is not due to the absence of oceanic adjustment on multi-decadal time scales but due to a cancellation between the effects of the AMOC weakening and a gradual warming and reduction of heat uptake efficiency that would occur with fixed AMOC, as one might expect from something like a diffusive model of heat uptake.
The curious point is that ESM2M and CM3 share the same ocean model. The two models show similar reductions in AMOC in response to a warming perturbation.  It is the atmospheres that are different between these two models.  One hypothesis  is that the different atmospheres respond differently to similar changes in AMOC, due to different cloud feedbacks perhaps,  resulting in different shapes to their response functions on multi-decadal time scales.  The importance of cloud feedacks for the response to full suppression of AMOC (generated by adding a lot of freshwater to the North Atlantic)  is analyzed in CM2.1 in Zhang et al, 2010, although the focus there is on the changes in tropical rainfall rather than global mean temperature.  If this picture is correct, it is interesting that modeling uncertainty in cloud feedback can result in uncertainty in the time evolution of global mean efficiency of heat uptake.
Once one moves beyond the two-time scale fit to three or more time scales a simple emulator with discrete time scales begins to lose its appeal, as compared to models that start from a picture of vertical diffusion or some other continuous process.  The latter would potentially have fewer disposable parameters.  In fact, some colleagues have questioned why I haven't started from a diffusive picture in these posts. It doesn't bring us much closer to the underlying physics (ie the vertical diffusivity that one ends up using to emulate GCMs on this 100 year time scale has no simple physical interpretation) but if one has to rely on the response to AMOC to suppress the response on multi-decadal time scales to justify a model with well-separated fast and slow responses, then a diffusive starting point might be more parsimonious.  Ill try to return to this topic in a future post.
I realize that a theoretical discussion like this, in which I haven't confronted the model with data on the response to Pinatubo, strikes some readers as unbalanced.  But I think we need a theoretical framework to think about how the volcanic responses and TCR are related, from which vantage point we can then think about the implications for TCR estimates of any discrepancies between modeled and observed volcanic responses.
(Thanks to several colleagues, especially Mike Winton, Tim Merlis, and Rong Zhang, for discussions on this topic.)
[The views expressed on this blog are in no sense official positions of the Geophysical Fluid Dynamics Laboratory, the National Oceanic and Atmospheric Administration, or the Department of Commerce.]