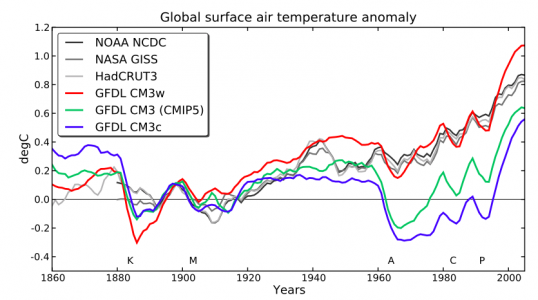 Global mean surface air temperature evolution (with 5-year running mean) in 3 versions of GFDL's CM3 model (Donner et al, 2011), compared to observations.  Each model result is an average over 5 ensemble members. Base period is 1881-1920. From Golaz et al, 2013.
The goal of climate modeling is to develop multi-purpose climate simulators. The same model generating the global mean temperature in this figure is also used to simulate the response of tropospheric winds to the Antarctic stratospheric ozone hole, for example. But as we all know, some aspects of the simulations in our current models are robust while others are sensitive to model uncertainties and may be tunable to some extent within the context of a particular model.   If you have a simple model that you are fitting to some data, there is no problem in describing in detail how you decided on the model, the free parameters, the fitting procedure, the data used, etc. it can be more of a challenge to make the development path of a climate simulator fully transparent.
A question that gets a lot of attention is whether you should try to tune your model to be consistent with the evolution of global mean temperatures (GMT) over the past century, or if you should withhold that particular iconic data set during model development, justifying its use as a measure of model quality.