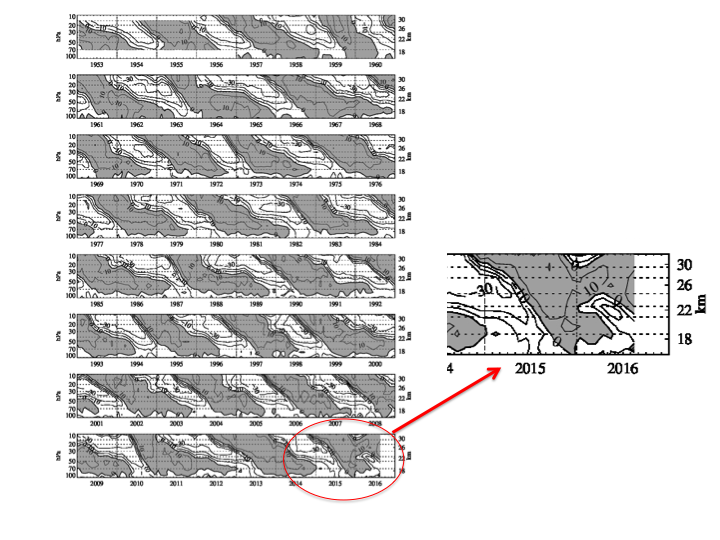 Monthly mean equatorial zonal winds in the stratosphere as a function of time and height.  Eastward winds are shaded. 10m/s contour interval.  This figure is updated monthly here, thanks to Marcus Kunze.   (Original version created by Christian Marquardt  (Marquardt, C. (1998): Die tropische QBO und dynamische Prozesse in der Stratosphäre. PhD Thesis, Met. Abh. FU-Berlin, Serie A, Band 9/Heft 4, Verlag Dietrich Reimer Berlin, 260 S.)  I have highlighted the last two years.
The quasi-biennial oscillation (QBO) in the equatorial stratosphere is one of the more remarkable phenomena in our atmosphere. In a region of about 15 degrees north and south of the equator, the east-west winds change directions, from about 20 m/s eastward to 30m/s westward and back again with roughly a 27 month period. As seen in the height/time plot shown above, these alternating winds first appear with a given sign at upper levels and then descend more or less regularly before stalling and decaying near the tropopause. There is generally one eastward wind layer and one westward layer at any given time: a new layer of eastward winds appears at upper levels once the previous eastward layer near the tropopause has been squeezed away by descending westward winds. Baldwin et al. 2001 is a classic review of both observational and theoretical aspects of the QBO.
In its most recent evolution, the QBO has exhibited some strange behavior, as seen in the plot shown above — in the past year westward winds unexpectedly appeared at about 40 mb, interrupting the eastward winds in their familiar steady descent. This unusual behavior, evidently with no good analog over the period of our observations of the QBO, is discussed in two recent papers: Newman et al 2016 and Osprey et al 2016.