Dr. Whit Anderson
Oceanographer
Geophysical Fluid Dynamics Lab
201 Forrestal Rd, Princeton NJ 08542
Phone: (609) 452-5308 Email
I am an oceanographer in the
GFDL Climate Processes and Sensitivity Group at the Geophysical Fluids Dynamics Laboratory (GFDL). My work is centered around development of and investigation with general circulation models. I was previously a Research Scientist with Princeton University and prior to that a UCAR Visiting Scientist at GFDL.
Currently Working On:
CM4 development and testing
Sill overflow representation in MOM6/CM4 and its role in climate simulation
CM2.6: Climate sensitivity and the impact of resolved eddies on physical and biological processes
Recently Worked On:
Prototyping decadal prediction experiments with GFDL CM2.5 high resolution climate model
Recent Publications:
In the news…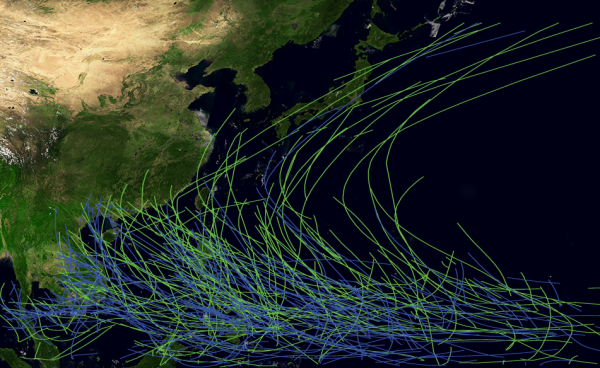 Modeled cyclone trajectories under climatological ocean color conditions (green lines) and under "blue" conditions (blue lines).